Qui, del Dicibile (Here, the Sayable).
Ariel Soulé and Simon Toparovsky continue their collaborations with this exhibition conceived as an homage to Naples, a city which knows how to tell stories based in reality– tying, connecting and relating concepts, words and images. The site for the installation, in the oldest center of the City, was the deconsecrated Gothic Church of Saint Mary the Crowned, excavated in 1870 and recently restored for use as a public exhibition space. The work was created with the patronage and sponsorship of the Ministry of Culture of Italy: the Superintendent for Fine Art, Naples; the Consul General of the United States in Naples and the Italian Institute of Culture, Los Angeles.
CATALOG ESSAY, excerpt
Tommaso Trini
art critic, professor of Fine Art, Academia di Brera, Milan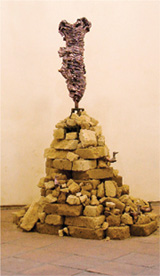 Visiting "Qui, del Dicibile" (Here, For the Sayable) may yet lead us into what is indeed the unsayable. This intimately dialectic installation affords the time to say what can be said within the curved space of the unsayble. For an artist like Vassily Kandinsky, who tends towards a synaesthesia of colours and sounds, of painting and music, art was to make the invisible visible, and the spectrum of colours audible. In the case of Soulé and Toparovsky's symbiotic installations – particularly in this encounter with literary plots raised to the level of "category" – art attempts to make the seeable most astutely sayable, filtering what we see through the various ways in which we might narrate it. The architecture of this installation without walls is as extended as it is suspended. Toparovsky's sculptural fragments tend to line up in symbiosis with the paintings, almost as though they were pictorial planes themselves, while Soulé's double canvases stand up on their own in symbiosis with three-dimensionality, as though they were sculptures. The interactions we see forming are those between the sculptures and the monumental sweep of the paintings, starting out with the interaction between convex shapes and concave.