The Cathedral of Our Lady of the Angels presents Simon Toparovsky: Vessels and Channels, a major solo exhibition of provocative new artworks and installations by this internationally acclaimed contemporary artist that explore ephemeral narratives of the human spirit and celebrate the human condition. Vessels and Channels will be on view from 9 November 2014 through 15 February 2015 at the Cathedral, the largest Catholic church to be built in 200 years, and will be accompanied by a rich series of public and private tours, lectures, dance performances, an academic conference and other programming.
On 9 November 2014, a public blessing of Simon Toparovsky: Vessels and Channels took place at 4 pm, presided by Msgr. Kevin Kostelnik. A reception for the artist was held from 4 to 6 pm and was generously sponsored by the Patrons of the Arts in the Vatican Museums.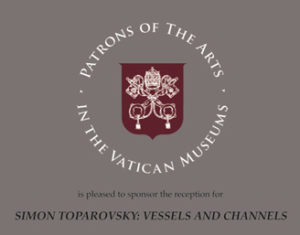 For the first time in Los Angeles in more than twenty years, Mr. Toparovsky, with Vessels and Channels, has created a large-scale exhibition, presenting complex, original mixed-media installations that include seminal pieces from his diverse practice of sculpture, photography and digital imaging. With his extensive range, acute attention to detail, technical mastery, and a history presenting thematic exhibitions, Mr. Toparovsky conjures compelling work— captured tableaux vivants —that demonstrate the full range of mortal emotions, using narrative sculpture and two-dimensional imagery that demand and reward close examination.
Of Mr. Toparovsky's work, the late visionary curator and early champion of California design, Eudorah M. Moore said: "Simon is endowed with an ingenious imagination capable of reshaping the mundane into mysterious symbols of humane universality. He observes the sounds of impending doom that darken the realm of human experience and with the vitalizing message of hope and optimism, challenges audiences, firmly pointing at the individual. The individual empowered. The individual rooted, centered and strong enough to be willing to be vulnerable, as the channel for transformation."
The Los Angeles presentation of Vessels and Channels at the Cathedral of Our Lady of the Angels will be followed by an exhibition in Italy, Simon Toparovsky: Vasi e Corsi (Vessels and Channels), to be presented by the Franco Rossi Modern Art Gallery in Palazzolo sull'Oglio, Franciacorta, from 7 February through 6 March 2015, featuring new, site-specific works by the artist that expand on his research.
Vessels and Channels is another chapter in Mr. Toparovsky's relationship with the Cathedral. In 2000, he was chosen from an extensive worldwide search to design and create the permanent, life-sized bronze crucifix for the Cathedral's Main Altar, his first liturgical commission. The mother church for the Archdiocese of Los Angeles, the Cathedral was consecrated in 2002. The crucifix has become a beloved icon, celebrated for its artistry and evocation of compassion in the devotional practice of the Cathedral's tens of thousands of visitors and parishioners annually.
Created for the magnificient side chapels of the post-modern building, Mr. Toparovsky's sculptural works and compositions in Vessels and Channels are inspired by the devotional function of sacred images in early Renaissance paintings and sculpture. Envisioned as paths to the divine, the traditional works were filled with references and symbols to connect worshipers to saints, historical figures, myths and cherished regional stories. Designed as vehicles to experience transcendence through prayer, the works were commissioned in a large scale for liturgical instruction and inspiration and in an intimate scale for private meditation.
Through a vocabulary of familiar and new symbols, mystical and nostalgic components, and objects from nature, Mr. Toparovsky reinterprets his subjects as a visual poet, combining elements and materials to stir private emotional experiences. For Vessels and Channels, the wall-mounted and freestanding cast bronze and mixed media installations are conceived as conduits– portals to the personally profound and sublime.
Accompanying Vessels and Channels is a programmed visual artwork, a mosaic journal entitled Imagining Christ: Making the Crucifix by Mr. Toparovsky, presented on a large-scale monitor and marks the first use of digital art in the Cathedral.